A Year(ish) in Review
I recently (well, this past March) had my one year anniversary with OWCN. As I thought about my goals for years two and beyond, I took the opportunity to reflect on all the fun and rewarding things I've done over the last year. I'm often asked, "what do you do as an oil spill response veterinarian?" So, without further ado, I figured I'd share with you all my year(ish) in review.
Trainings, trainings & more trainings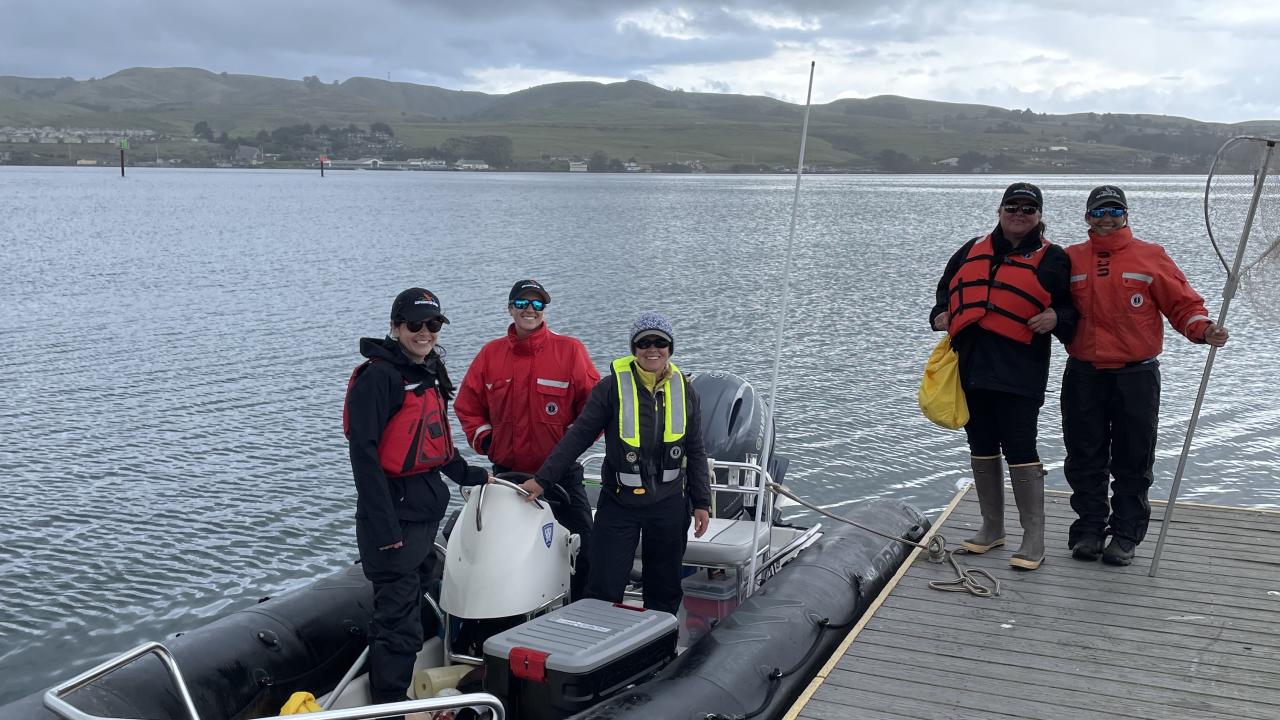 One of the first things we do as a new OWCN member is get up to speed with trainings. HAZWOPER, or hazardous waste operations and emergency response training is a MUST for the OWCN management team to safely participate in oil spill response. In this 24-hour (and later 40-hour) training, we learn how to safely work in and around hazardous substances, i.e. petroleum products. Although we don't require this certification for all of our OWCN responders, it is highly recommended! Next up is a slew of Incident Command Systems (ICS) trainings – ICS 100, 200, 300, 400, 700 and 800! These trainings range from one hour to a few days and provide a standardized approach to the command, control and coordination of emergency response. This is especially important when multiple agencies are involved, like in oil spill response. ICS provides a common language and framework so that OWCN, California Department of Fish and Wildlife Office of Spill Prevention and Response (OSPR), Coast Guard, Environmental Protection Agency (EPA) and various state and local stakeholders can work together efficiently and effectively toward a common goal. For those who don't love sitting behind a computer taking online trainings (like myself), the fun begins with ATV and Motorboat Operator Training Courses (MOTC). In both of these trainings we learn how to safely operate the equipment we use in oil spill response. If you want to read more about the MOTC training, check out the guest blog written by our colleague, Colleen Young from OSPR.
Elegant Tern Response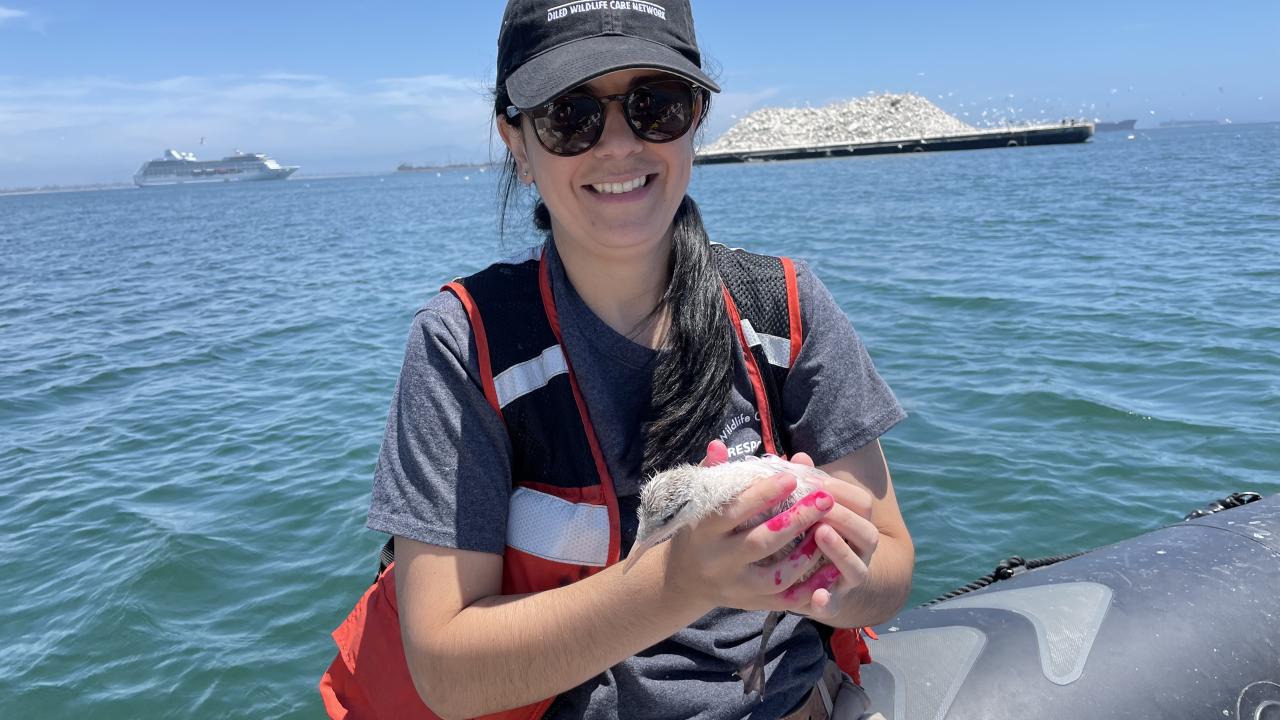 In July of 2021, a large colony of Elegant Terns nested on two anchored barges in Long Beach Harbor. As chicks began to hatch and fledglings ventured out, they fell 5+ feet into the water, unable to return to the barge deck. Our colleagues at International Bird Rescue (IBR), quickly jumped into action to lead a large rescue response, bringing together partner organizations, including OWCN. I assisted by pulling chicks out of the water and performing exams to determine if they were healthy enough to return to the barge or should be sent for further rehabilitative care with the experts at IBR in San Pedro. It was an honor to help our colleagues at IBR with this response, and was the first of many successful collaborations that would continue throughout my first year!
Toro Canyon Creek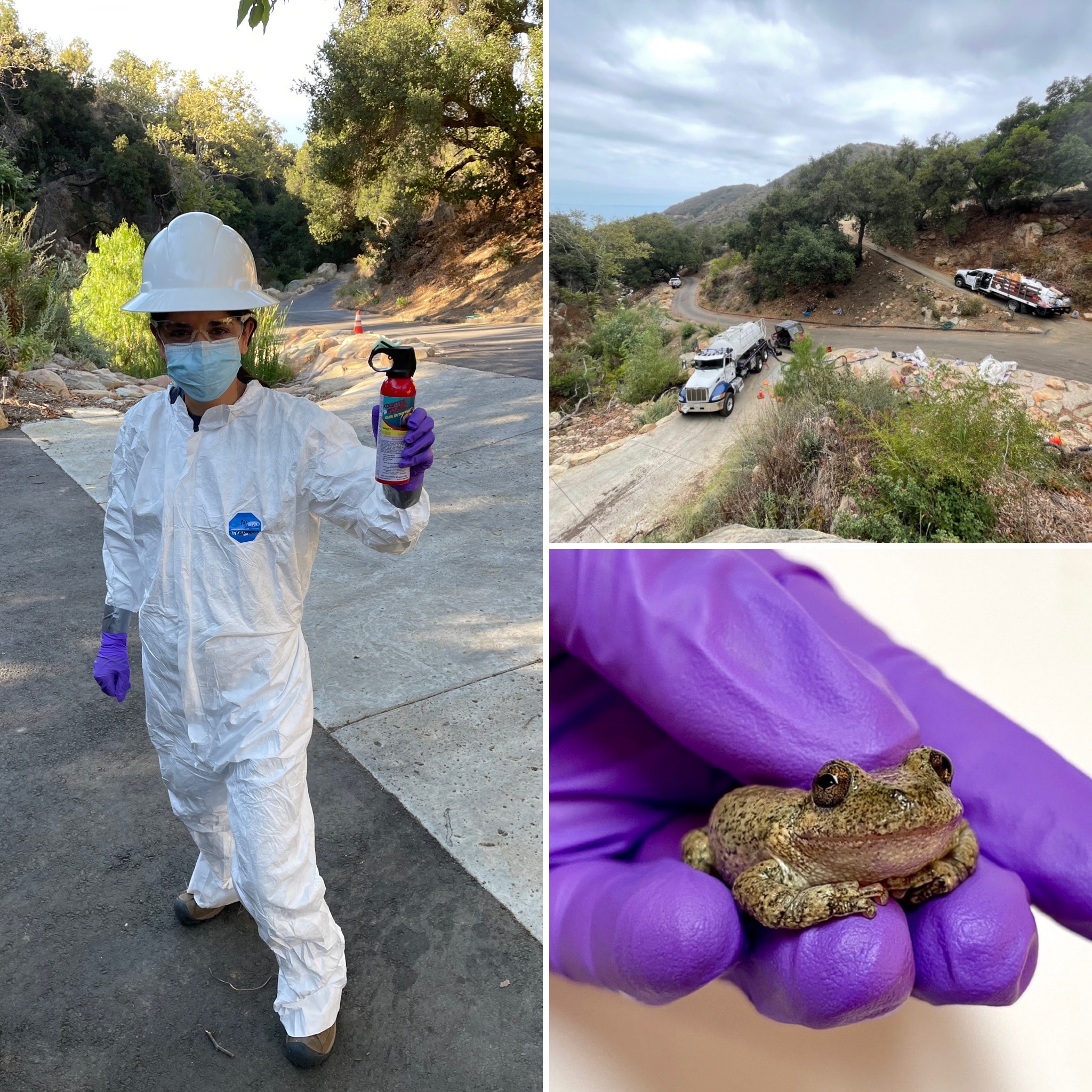 A few weeks later I responded to my first oil spill at the Toro Canyon Creek in Santa Barbara County. Some of you may remember this as the "Frog Spill" since California Treefrogs and Baja California Treefrogs were our main patients, 92 to be exact. For the first time I got to put the protocols I had been reading on paper (actually, on a screen) for the past few months into practice. I had a crash course in the Wildlife Recovery App, camera trapping, processing, hazing and deterrence, search and collection, evidence collection, ICS forms, OWRMD to name a few. I also experienced what it's like to wear full Tyvek in the sun on a 95°F day. Did I mention the field site was on a VERY steep hill?
Pipeline P00547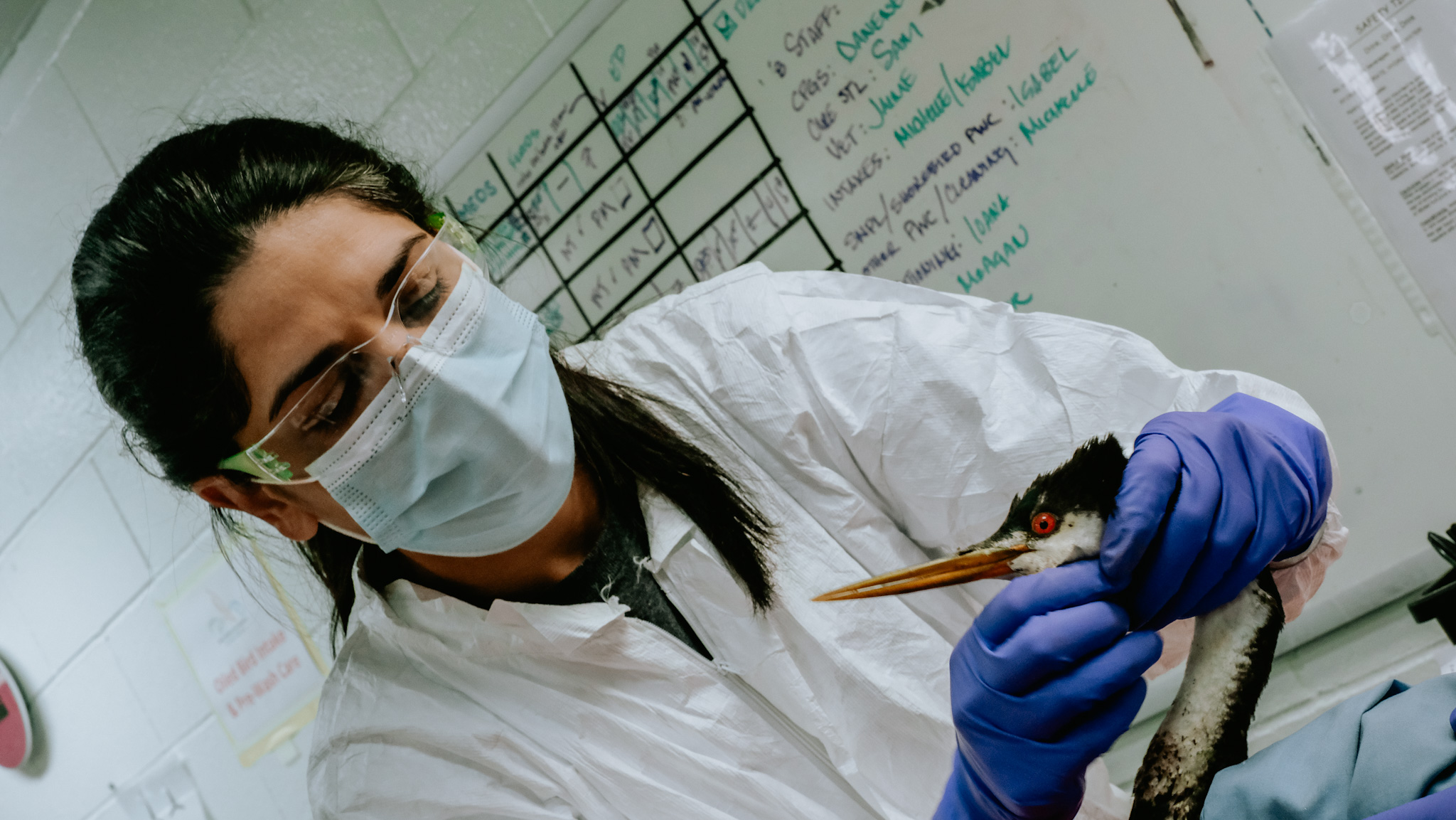 It was my first week manning the 24/7 oil spill report line, when I took the call for the biggest oil spill in California of the year, correction, the last 6 years. I nervously led my first OWCN management team planning meeting, packed up my veterinary equipment and was off to SoCal for what would become a total of nearly 6 weeks. I was based out of the Los Angeles Oiled Bird Care and Education Center in San Pedro where the OWCN Care team with the help of our member organization colleagues from IBR, rehabilitated birds impacted by the Pipeline P00547 oil spill. This was an incredibly successful response, both in terms of wildlife and partnerships. I walked away from the Pipeline P00547 response with a sense of pride in our team, and myself as a true response veterinarian.
Southern California Pelican Crisis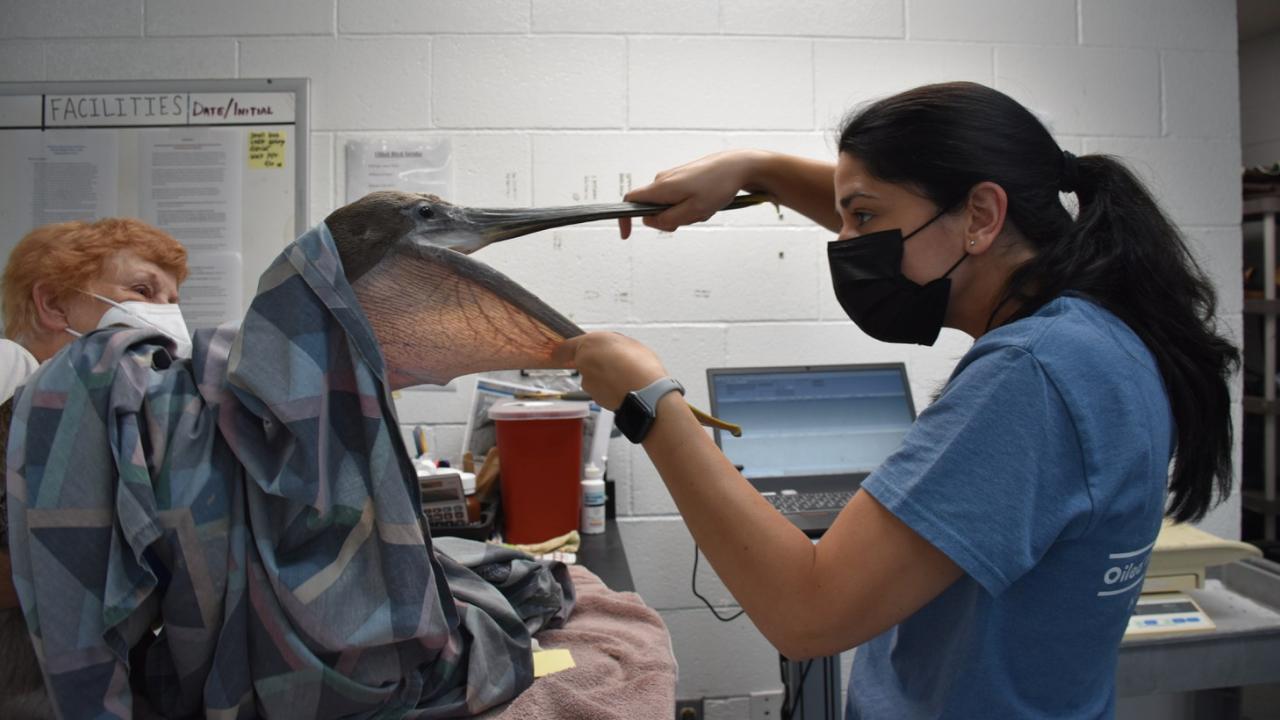 In May of 2022, hundreds of emaciated, hypothermic and dehydrated pelicans started showing up at wildlife rescues in southern California, including some of our member organizations. In an already busy time of year (baby season), now they had hundreds of sick pelicans to care for. I headed back down to San Pedro to lend a hand to our colleagues at IBR while Lorraine, Danene and Wendy (and later Sam and Duane) assisted further north at Santa Barbara Wildlife Care Network. For more information about the Brown Pelican Response check out IBR's blog  and this news release from Santa Barbara Wildlife Care Network.
What do you do when you aren't responding to an oil spill?
I get this question all the time. Especially as a veterinarian, people expect you to work directly with animals day in and day out. As a wildlife veterinarian, I do things a little differently.  In addition to attending trainings like the ones listed above, I help to prepare content and deliver trainings for OWCN responders, such as the Basic Responder and Oiled Wildlife Specialist trainings. One of the most rewarding parts of my job is the opportunity to help train the next generation of wildlife veterinarians. I engage with veterinary students through guest lectures, panels and help oversee a senior veterinary student externship in wildlife medicine alongside our colleagues at CDFW and CDFW OSPR. At OWCN we love our protocols and job aides. As a veterinarian I help to write, edit and review protocols to ensure we are prepared to provide the best achievable care to the wide array of species affected by oil spills. Speaking of preparedness, during non-spill times I manage our veterinary equipment (anesthesia machines and monitoring equipment, microscopes, centrifuges), supplies (needles, syringes, surgery supplies) and medications so that everything is stocked, working, up to date and ready to deploy to a spill at all times. And like so many of us, answering emails and "going to" Zoom meetings is a staple.
The past year (and 3 months) has been a whirlwind. It's been filled with acronyms, long days, lots of Tyvek, troublesome grebes, tiny frogs, hours of trainings, gold status at the Doubletree hotel in San Pedro, new partnerships, new friendships and so much more. I'm honored to be a part of this amazing network and can't wait to see what year two has in store!
Jamie