Toro Canyon Creek 2.0
In August of 2021, five months into my tenure with the Oiled Wildlife Care Network, I mobilized to my first ever oil spill response. Some of you may recall the Toro Canyon Creek Incident, most notably for the 92 California and Baja California Treefrogs that were successfully rehabbed and released following months of exposure to crude oil in their environment. I was bright eyed and bushy tailed as I hopped in the white truck with Jennie and Wendy and we made our way to Santa Barbara. Over the span of three weeks I had a boots-on-the-ground crash course on the intricacies of inland oil spill response – navigating difficult terrain, how to communicate in the absence of cell phone service, using trail cameras to identify local species and how they move in their environment, search and collection of all creatures great and small (our tiniest frog patient was approximately the size of a honeybee), and so much more. We built lasting relationships with the Toro Canyon locals, my coworkers became great friends, and I grew from a "newbie" to a seasoned responder.

---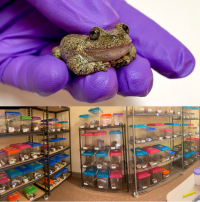 For those that need a refresher, Toro Canyon Creek is located in the hills just north of Carpinteria in Santa Barbara County. This beautiful creek is the only year-round water source for animals for miles around, including frogs (of course), small mammals, coyotes, foxes, deer, bobcats, and even bears! In the early 1990's a small leak was discovered in an oil well built back in the 1880's. As such, an oil-water separator was built to contain oil well seepage by diverting oil to a storage tank and allowing clean water to flow into the creek. Unfortunately, after the Thomas fire, damage to oil containment infrastructure led to seepage of crude oil into the Toro Canyon Creek. Under the direction of the California Department of Fish and Wildlife Office of Spill Prevention and Response (CDFW-OSPR), the OWCN was activated while cleanup operations were completed. For more information on OWCN's involvement with this response, check out Sam's Blog from October 2021, "Welcome to FROGTOWN."
---
Fast forward to January 2023. Wendy and I are on an active oil spill response in Martinez, CA when we get notification that oil was seen in Toro Canyon Creek…again. Our OWCN team hopped right on our usual spill planning call (although it was unusual to plan for a repeat spill during a concurrent spill). A few hours later, Wendy, Jennie and I were back in the white truck on our way to Santa Barbara. Talk about déjà vu!
We drove well into the night to make sure we'd be [back] at the Toro Canyon Creek at first light to search for oil-impacted wildlife. This time around, as three seasoned pros we jumped into action – checking for frogs in all the places we found them previously (and in new ones), setting trail cameras, and setting hazing devices around the highest risk (thickest pools) areas. At the end of day one the good news was - we didn't find any live or dead oil-impacted wildlife. The bad news was - a big storm was headed our way. The following day we returned onsite at 0700 for our usual AM frog check and pulling camera cards. By 1100 the local Fire Department came up the hill to report that heavy rains were incoming and due to the risk of human injury from flash flooding, landslides and debris flow, all personnel were to evacuate by 1200. As quickly as we came, we left. A few days later, once the rain had subsided and it was safe for personnel to return, OSPR crews discovered that the rains had flushed away the existing oil and no additional oil was found.
And with that the Toro Canyon Creek 2.0 response came to a close. Fingers crossed we don't reach Toro Canyon Creek 3.0!